We may earn money or products from the companies mentioned in this post.




"God writes the gospel not in the Bible alone, but on trees and flowers and clouds and stars."~Author unknown, commonly attributed to Martin Luther
I love nature. I love connecting with Mother Earth, Gaia.; with all that my Father God created and shared with us to marvel at. Nature is beautiful. Awe-inspiring, breath-taking. It is always changing, always adapting, always providing for those that love it; both physically and mentally.
"Look at the trees, look at the birds, look at the clouds, look at the stars… and if you have eyes you will be able to see that the whole existence is joyful. Everything is simply happy. Trees are happy for no reason; they are not going to become prime ministers or presidents and they are not going to become rich and they will never have any bank balance. Look at the flowers – for no reason. It is simply unbelievable how happy flowers are."~Osho
I love to camp. I have been camping as long as I have memories, and the best vacation memories and family moments throughout my life all revolve around camping or something to do with nature. Camping is also a lifestyle. You are either a camper, or you are not. There are some that try be campers, but aren't, and we call those the camplainers as all they do at camp is complain. I try to go as often as possible, and because my dear hubby is constantly working, but also because he also cares not for tents, I take the kids and off we set for a few days of getting down to earth with good ole Mother Earth.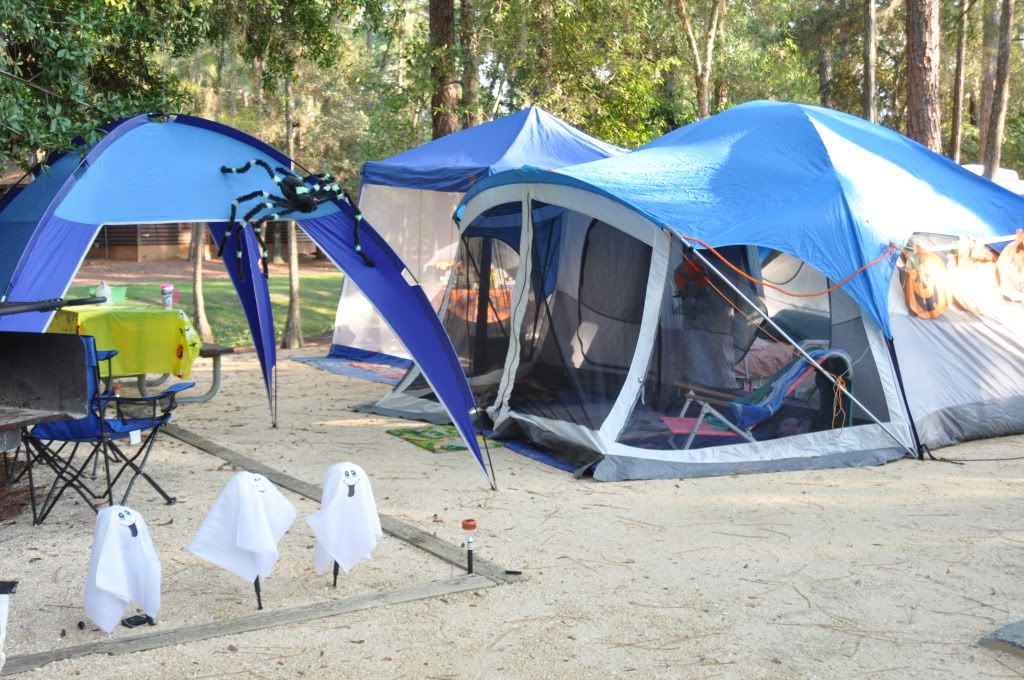 Our camp
For two years in a row now, we have been fortunate enough to be able to go to Walt Disney World in Orlando, Florida in late September. Both times, we have stayed at Fort Wilderness, the campground that has been across the lake from the Magic Kingdom since opening day, October, 1, 1971. I love the location of The Fort (as most call it). I love that I can be at a theme park for fun, or I can be surrounded by the diversity of flora and fauna where deer, armadillos and others little creatures are running free.
I hate hotels. Abhor them. I don't care if it is a small Motel 6 or a big, luxurious Hilton. I don't like them. Of course I stay in them when I need to, not every trip can be a camping trip, but even then if I have the option I will choose a Bed and Breakfast to lodge at. Hotels have too many people in them. Workers, guests, and the shadow people of those workers and guests. Hotels have as many souls and spirits as a hospital, and I don't care for those either. (For newcomers, believe it or not, I am…or was….a nurse that worked in a hospital and a nursing home before I switched to the legal field. It was the extra 'patients' that proved too much for me to handle.) Because I am an Empath who sucks up all the feelings of everyone around me, hotels and hospitals just don't work for me. Another reason to love camping!!! My stuff, my space and very few extra souls hanging around all the time. Win/win for me.
So camping it is. Yes, even at Disney. I can't believe how many people commented on how that is not a vacation or asking why anyone would go to Walt Disney World to camp, and much of the time I just can't explain it because most people don't get it. Camping IS a lifestyle. It is my lifestyle, so honestly, that should be all that matters. I love to camp. 'Nuff said.
So today, on this 3rd of November when I think about what I am thankful for, it is camping and the ability and privilege that I get to do it as much as possible. I am also thankful for our recent Disney trip, the memories I was able to make with my youngest child, and the fact that for the next however how many postings, I have something to write about! Yay for you, you're going to get to read about Disney World and camping! Aren't you just ever so lucky to have stumbled across my blog?!
I will start off my trip report for the blog much the same way I did on the Disney message board I post on:
Fort Wilderness frogs are happy frogs -or-Is it frog mating season? A random Trip Report
I am sitting in my canopy kitchen right now by the canal and for the 6th night in a row, the frogs are the loudest I have ever heard frogs be. Either amphibians are just really content in this World of Disney, or it is that time of year.
Either way….it is pretty durn good (and the frogs agree).


Other random trip report popcorn thoughts:

The worse thing about camping; the late night walk to the bath-house. One of the best things about camping; that late night walk out of the bath-house back to your site and you look up….and the sky makes it all worth it.


Resort hopping is so much fun. Coming home to the Fort is even better.
(I wish I could hop to Port Orleans for some beignets right now, though.)

Mickey's Not So Scary Halloween Party was really good this year (but admittedly I only have last years to compare it too). I got some great pictures I think (rented a Sigma 1.4 from advice on Photography Board…love that lens!) I have so many to work with it is almost shameful to realize how many I have snapped since we arrived last Wednesday. I think my Headless Horseman shot is good though, can't wait to d/l and see it on the screen (and yes, I have too much adrenalin still to sleep….it was fun but I still am thinking of all I didn't get done and wondering if we should do one more party before we go? Who am I kidding…I will be so broke by then I would need to sell a kidney!
)

DD is convinced one of the horses we have seen a few times riding around the fort with a CM only and not a tour kind of thing is the horse for ole Headless. I think she is right after seeing him tonight.

I will never ride a bus.

I love the boats. The monorail is like MARTA in Atlanta after a few trips on it. Not really fun but in the right mind set, can be very entertaining.

The walk was not bad between Fort Wilderness and Wilderness Lodge. Not much to see. Curious about some chickens though. If there really is a DVC property going there, I would hope it would not be a big sprawling place, but that section of property looks like prime building property if I was speculating on such, which I am.

Isn't looping fun? I wave to everyone…if you see some crazy lady smiling and waving and saying 'hey y'all' a lot (and no, it ain't Paula Dean-she doesn't have that trademarked, lol!)… say 'hey' back and wave…it is probably me, trying to drive and hang on to my hat.

Y.E.S. classes are a mix of great, good and so-so. Nothing has been bad, just some were better than others. We have our last in the morning (report at 7:45
) so if you see the lady that looks like she needs some sleep, that will be me.


I hate that 11 year olds are considered adults when eating. She eats 3 things and I pay an adult price. I hate buffets….except Garden Grove at the Swan. That was a DELICIOUS seafood buffet and the character interaction was great. After dinner, we walked to the Boardwalk and then back to the Swan where I had gone ahead and drove and valeted. We were pressed for time or I would have tried the transfers, but it could work with patience and time. Since I had no time, and my DD was out of patience…we drove.

I will have more food to discuss later: Chefs de France, Tusker House, Primetime Cafe, etc. ….but later, all in time….plus, it is making me hungry!

I really want some beignets.

Dang….those frogs are loud!

More to come…
For those that may be unclear on a few things: 'looping' is what we do on our golf carts around the campground; Y.E.S. stands for Youth Education Series and is a Disney program which combines vacation and education. I will have much more to say about each of the Y.E.S. classes we participated in as we go along with the report. CM is Cast Member, an employee of anything Disney. All employees anywhere that is paid by a Disney company is called a Cast Member, as they are part of 'the show'. DVC is Disney Vacation Club (time share for Disney) and DD stands for Dear Daughter.
Because it is a dreary day, I am even more thankful for our recent trip. As I look out the window into the fading light and see the trees are finally near bare, I realize I may not get another camping trip to revel in nature before the close of the year and winter sets in with her fury. I will miss it, but Spring won't be far behind winter, and the tent will be ready to travel again.
Until then, I have the blog to fill with our latest adventures plus the memories of others. Tomorrow's entry..arrival at The Fort.